CHOCOLATE CHIP COOKIE COSTUME
Created accidentally in 1934 by Ruth Wakefield, owner of the Toll House Inn in Whitman, Massachusetts, the chocolate chip cookie has been popular since World War Two. May 15th is national Chocolate Chip Day. This costume captures the look and texture of this popular cookie, and it is a costume that is easy to wear, and put on or take off. The chocolate chip cookie costume has front and back sections and two shoulder straps. There is a strap on each side to bring the sides closer together or apart that is adjustable with VELCRO fasteners. The front and rear sections are stuffed with tulle to give them shape and each chocolate chip is also stuffed to give the costume a more realistic appearance. The costume is a standard one size for adults and measures 22" in diameter. The costume can be specially made to fit any size, height, or weight. Pants, shirt, and shoes are not sold with this costume, however leotards and tights are available separately. Also available with this costume is a headband with a chocolate chip bow made from the same fabric as the costume. The headband comes with the costume, but may be omitted at the request of the customer. The costume is made by hand and made to last and be enjoyed for years to come.
This costume is made by hand, and can be tailored to fit a smaller or larger size than what is specified above.
ADULTS SIZED CHOCOLATE CHIP COOKIE COSTUME
$150.00
The chocolate chip cookie costume has side straps with VELCRO strips to adjust for a better fit.
The costume includes a headband with a bow and is covered with the same fabric as well as smaller chocolate chips. The chocolate chip cookie costume can be ordered with or without the headband at the customer's request.
CHOCOLATE BROWN CAPEZIO LONG SLEEVED TURTLENECK LEOTARD
Comfortable long sleeved turtleneck CAPEZIO leotard has a back zipper and a snap crotch. The leotard has elasticized leg openings. Shell: 90% Nylon 10% spandex, lining: 90% polyester 10% spandex.
$28.00
CLICK HERE FOR SIZE GUIDE FOR LEOTARDS AND TIGHTS,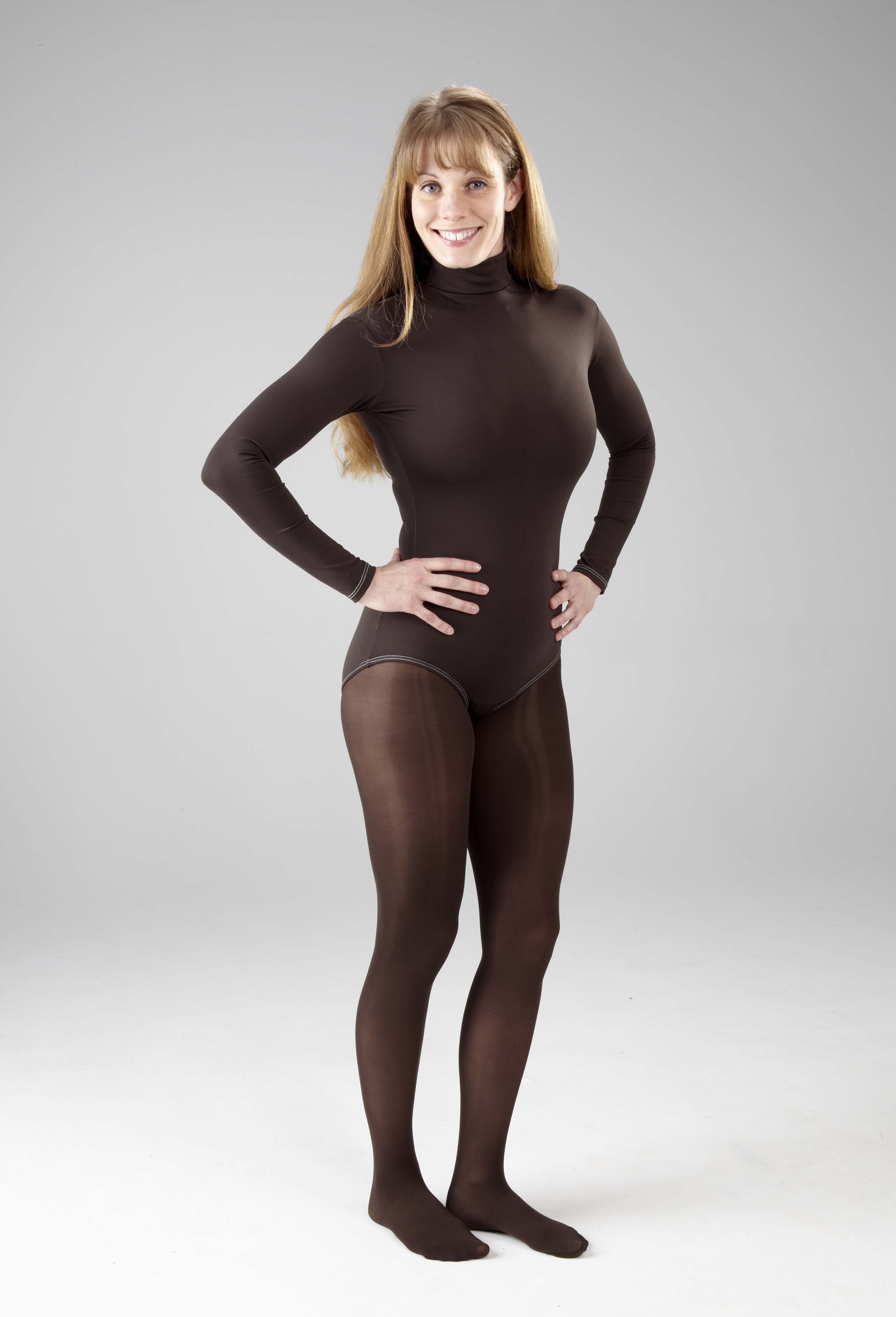 CHOCOLATE BROWN CAPEZIO FOOTED TIGHTS
Soft, comfy tights preferred by dancers, specially dyed, and available in two styles; Studio Basics, and Ultra Soft. Studio Basics tights are 88% Nylon, 12% Spandex Ultra Soft tights are 86% TACTEL Nylon 14% Spandex. Both styles are hand wash only drip dry.
CAPEZIO STUDIO BASICS TIGHTS IN CHOCOLATE BROWN
$13.00
CAPEZIO ULTRA SOFT TIGHTS IN CHOCOLATE BROWN
$18.00
CAPEZIO MEN'S FOOTED TIGHTS
Men's seemed tights with 100% Nylon in EXTRA SMALL, SMALL, MEDIUM, LARGE, EXTRA LARGE, and EXTRA, EXTRA LARGE sizes. Hand wash only, drip dry.
$25.00
PLUS SIZED OPAQUE FOOTED TIGHTS
Plus sized soft, comfortable tights in eight different sizes! The tights have two-way stretch for an improved fit and a wide comfort waistband. Tights are 87% Nylon, 13% Spandex, and have a cotton lined shield. Hand wash only, drip dry.

PLUS SIZED TIGHTS IN CHOCOLATE BROWN
SIZES 1X-3X $13.00
SIZES 4X-8X $16.00