PUMPKIN COSTUME
A perennial Halloween favorite! Here is a pumpkin costume with a timeless design that is made well enough to be worn for many Halloweens to come. The pumpkin is a gourd-like squash, and the jack-o-lantern practice of carving out a pumpkin has been a harvest season tradition before it was associated with the Halloween holiday. The pumpkin is the state fruit where costumesbycameron.com is based, in New Hampshire. With its bright orange color, round shape, and the merriment of the fall season, it is easy to see why this is such a popular costume idea at Halloween. The pumpkin costume is hand made using fabric (65% polyester 35% cotton) on the outside lined on the inside with 100% cotton flannel and stuffed plump with nylon tulle between the two layers. This costume is hollow allowing the wearer to bring their arms inside, and there are two pockets with VELCRO fasteners on opening flaps inside the front of the costume. The pockets allow the wearer to carry a wallet, car keys, and cell phone inside of the costume. The pumpkin costume has a snap crotch, with elasticized leg and neck openings. The round shape of the costume is supported by crinoline hoopsteel , which can be removed for washing. A green collar with elastic at the neck opening that gives the look of vine leaves comes with the costume. Your choice of a full hood with top shell, stem, and vines, or a fabric covered head elastic with top shell, stem, and vines to go with the costume. Orange leotard, and green tights sold separately.
This costume comes in two adult sizes: SMALL/MEDIUM 4'10"- 5'5" tall
MEDIUM/LARGE 5'6"-6'2" tall
The pumpkin costumes are made by hand, and can be tailored to a specific size, either smaller or larger than the sizes specified above.
ADULTS SIZED PUMPKIN COSTUME
$800.00
ORANGE CAPEZIO LONG SLEEVED TURTLNECK LEOTARD
Comfortable long sleeved turtleneck CAPEZIO leotard has a back zipper and a snap crotch. Elasticized leg openings. Shell: 90% Nylon 10% Spandex, lining: 90% Polyester 10% Spandex.
$28.00
CLICK HERE FOR A SIZE GUIDE TO LEOTARDS AND TIGHTS.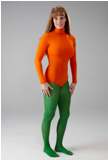 KELLY GREEN CAPEZIO FOOTED TIGHTS
Soft, comfy tights preferred by dancers, specially dyed, and available in two styles; Studio basics, and Ultra soft. Studio Basics tights are 88% Nylon 12% Spandex. Ultra Soft tights are 86% TACTEL Nylon 14% Spandex. Both styles are hand wash only, drip dry.
CAPEZIO STUDIO BASICS TIGHTS IN KELLY GREEN
$13.00
CAPEZIO ULTRA SOFT TIGHTS IN KELLY GREEN
$18.00
KELLY GREEN CAPEZIO MENS FOOTED TIGHTS
Men's seemed tights with 100% Nylon in EXTRA SMALL, SMALL, MEDIUM, LARGE, EXTRA LARGE, AND EXTRA, EXTRA LARGE sizes. Hand wash only, drip dry.
CAPEZIO MENS FOOTED TIGHTS IN KELLY GREEN
$25.00
KELLY GREEN PLUS SIZED OPAQUE FOOTED TIGHTS
Plus sized soft, comfortable tights in eight different sizes! The tights have two-way stretch for an improved fit and a wide comfort waistband. Tights are 87% Nylon 13% Spandex, and have a cotton-lined shield. Hand wash only, drip dry.
PLUS SIZED OPAQUE FOOTED TIGHTS IN KELLY GREEN
SIZES 1X-3X $13.00
SIZES 4X-8X $16.00